Sara and Sarah with Samantha making out including anal orgy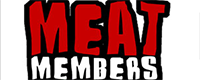 Meat members
- 45+ Hardcore Sites For One Low Price! Extreme Facials - Hardcore Squirting - Deapthroat Abuse And Many More!. Huge cocks and amateur sluts. Naughty porn stars and shy teens. Sexy milfs and dirty college girls. All under one roof with unique and premium content.
2418
4 years ago
Update: Samantha, Sarah and Sara
Site: Pervert Paradise
Network: Meat Members
Pornstars:
Categories:
Tags:
Description: These 3 whores can really take a beating with the meat stick. Gobbling up every lunge our 3 resident pervents thrust at them, they drained our semen tracks like a fish in water. Top that off with some face-lathering facials, and we have pure bliss!